THE MAKING OF FROLIC
Asher is the subject of Frolic 1 (2012) and Frolic 2 (2015). Although these images were created in different years, the same source photographs were used for both.
This is Asher. Isn't he gorgeous? A black beauty with amber eyes. His handlers clip him in the autumn so it's easier to dry him off after a rain storm or a sweaty workout. This photograph was taken in January 2015.
Asher not only moves like a dancer, but he also instructs. I'm not kidding. I happened to be there in February 2013 when Asher, Monty, and Murphy were turned out together. Murphy is the newest and youngest member of the herd and I watched Asher pull him aside for a lesson in synchronized stepping.
After the lesson, they retreated to a corner and I suspect they were talking about me. I sure hope it's okay with them that I've shown you their dance.
The photograph of Asher that I used for both versions of Frolic was taken in August 2012. Asher was galloping around the perimeter of the arena with some friends when he suddenly turned and stepped into the center—to perform a solo.
There is a lot of visual noise in this photograph of Asher so I knew the finished piece would have a dreamy quality. I wanted to communicate the magic of Asher's dance and the following words came to mind:
In a mystical sun-streaked glade, a dark stallion taps out a rhythm for the next fairy dance.
For the background, I combined a photograph of Portland's South Waterfront garden taken in 2010 with an unsaved photograph of wispy clouds (similar to the one shown here).
The colors in Asher's photograph are predominantly magenta-gray and I didn't want to go with black and white for the finished piece. But I did want his dark coat to stand out, so I suppressed most of the colors in the fantasy background I created.
After carefully blending this background with my photograph of Asher, it still needed a lot of work because I had increased the level of noise or distortion. In the end, I decided to add a linen-like texture to the work—making it appear antiquated.
Here is the finished piece:
Frolic 1 (2012)
Three years later, in 2015, I had a different vision for this piece so I tackled the project again—using the same ingredients. This time, I used a different approach to cleaning up the photograph of Asher.
My plan was to re-combine the background photographs of garden and clouds, but I hadn't saved the cloud photograph, and I couldn't find another I liked as well. So I applied different treatment to the old background.
This time the blending process took even longer because I had substantially increased the distortion. Sometimes images can look good on the screen but prove a disaster in print so I took extra steps in order to preserve top quality.
Here is the finished piece: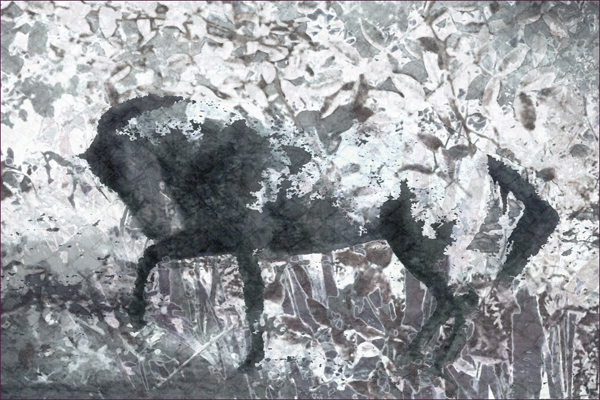 Frolic 2 (2015)